THE PICTURES USED ARE PICTURES TO ENLIVEN THE TEXT AND HAVE NOTHING TO DO WITH THE TEXT ITSELF.
We speak of cryptorchidia when one or both testicles (testes) are not descended into the scrotum. The testicle(s) may be located in the abdominal cavity, or between the inguinal canal and the scrotum. The condition occurs in all breeds. Cryptorchidia is a hereditary condition.
Unfortunately, it also occurs regularly in the kelpie.
The construction of the testicles occurs in the abdominal cavity near the kidneys. Before the puppy is born, the testicles already start to move towards the scrotum. During birth, the testicles have not yet descended; this only happens after 1-3 months. Young males retain the ability to raise their testicles up to the inguinal canal until puberty. After that, the inguinal canal becomes less wide, and the testicles larger, making this no longer possible.
Cryptorchidia is more common in some breeds than in others. Especially in dwarf breeds, short-snouted breeds (including Boxer and English Bulldog), Siberian Husky, Poodle and Old Shetland Sheepdog, we see the condition more often. There is a chance that the condition is hereditary.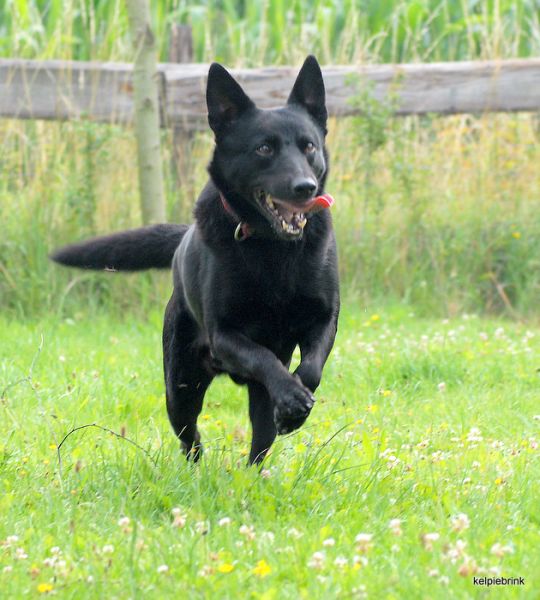 Many causes of cryptorchidism are possible. The most common causes are:
delayed displacement to the scrotum
testicles that are too large
a 'blocked' inguinal canal
a poorly developed scrotum
fluctuation in hormones
An undescended testicle also simply produces male hormones (testosterone). Therefore, during castration, both the retracted and nonretracted testicles should be removed.
When 1 or both testicles are left behind, they are somewhat more likely to develop, usually benign, testicular tumours or testicular torsion (twisting around its own blood vessel). In the case of a testicular tumour, we do not notice any symptoms until later, as the tumour often only gives symptoms at a certain size. There is then also a risk of metastases and enlargements, making removal difficult or impossible. An abdominal ultrasound can be done every year in older uncastrated males to detect changes. To pre-empt problems, it may make sense to surgically remove non-collapsed testicles. Sometimes the non-collapsed testicle can be felt in the inguinal canal. That way, the size of the testicle can be closely monitored.